WTF is Go-To-Market?
A five-week short course for B2B startup marketers to get the skills, confidence, and tools to build a customer-focused go-to-market strategy.
For product marketers,
by product marketers
Go-to-market strategy is critical for sustainable business growth. But theory means nothing if it's not delivering value to you and your business.
WTF is GTM is for marketers aspiring to build their product marketing foundations for career development and business growth.
Build a go-to-market strategy based on direct product marketing experience
Grow faster equipped with a broad range of different go-to-market strategies, methodologies, and levers
Learn from real experiences from product marketers who've scaled companies from early stage to IPO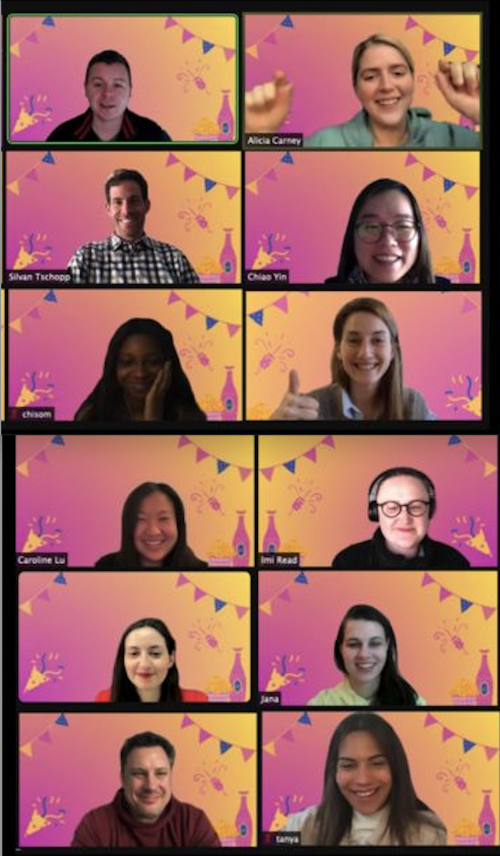 Live lectures
Understand core concepts.

Weekly live lectures, themed course modules, and async office hours help you explore concepts and examples, and ask questions.
Make weekly progress
Learn by doing.

Get a kit of practical templates and weekly homework to define + document your GTM strategy - putting principles into practice.
Learn from others
Grow your network.

Build a close-knit community of allies on the same journey, with similar goals, who want to support your business and career growth.
Five weeks to get your GTM sh*t together, together
We'll guide you from ground zero through to fully-formed strategy. You'll get access to 10+ templates that provide critical structure to help you evolve as a product marketer, long after the course ends.
Understand the GTM framework
Walk through the foundational components of a GTM strategy that stands the test of time.
Know customer so well, it's your superpower
Get inside the head of your customer to truly understand their needs and goals.
Define your value proposition
Set yourself up to build something unique that shines in a crowded market.
Communicate your strategy so people get it
Know hot to target positioning and messaging by audience - from customers to stakeholders
Take your product to market, efficiently
Take all the chaos and 'thinking' work out of launching new products.
Iterate to success without losing pace
Test and iterate for continued success without sacrificing results along the way.
Imi R
Product Marketing Manager
"
In just 6 weeks, my knowledge has been elevated beyond my imagination
. My fundamental understanding of Go-To-Market has evolved, and now I bring more clarity and confidence to my work, everyday.
"I can't thank Alicia and James enough, along with the wider course community, for building such a supportive space to learn.
"We all truly leveled up together."
Product Marketing Manager

"This course - and the supportive community that comes with it - has acted as a trusty GPS as I navigate building effective go-to-markets, tackle positioning projects, and run research to uncover customer needs.

"WTF is Go-To-Market has helped me understand how I can maximize my impact as a product marketer - I'm forever grateful! I'd highly recommend this course to any PMM aiming to develop a more strategic mindset and practices in their day-to-day."

Silvan T
Head of Product Marketing
"There is so much information about Product Marketing readily available, but it's sometimes hard to connect the dots and really understand how it's applied in the field.

"Learning from Alicia's and James' first hand experiences and seeing how they implemented and perfected some key concepts over time, really inspires to apply the same to my own situation.

"If you are looking to foster your understanding of what customer-centric Product Marketing truly is and get hands-on guidance on how to implement in your business, this course is for you."
Georgie B
Product Marketing Manager
"
Before I started this course, I knew what I needed to do as a Product Marketer, but was struggling to understand how I could tie everything together to make the most impact in my role.

"After doing this course my confidence in my ability to do and exceed at my role has hugely improved. I finally feel like I have a blueprint to help me succeed and I'm excited to be part of a community of like minded people working on similar challenges!

"For any solo marketers in early stage start-ups I would highly recommend this course, both to set yourself solid foundations, and so you can become part of a network of people facing similar challenges together!"
Brian G

Sr. Director Product Strategy
"The course is very practical. It takes your current situation and gives you a framework to focus on the most important things for driving success for your business, from a marketing perspective.

"The course gave me the tools to really think about how our business connects with customers, how we articulate our value and differentiation, and how to measure that you're constantly on the right track. And it was all grounded in real-life examples and discussions.

"I would highly recommend this to both marketing leaders and start-up executive teams that need to make sure that every group is in alignment."
"Product marketing is a completely new world for me and the company I work for. This course has trained me to have a solid foundation of what skills and best practices are required to run a proper product go-to-market plan. I feel confident in taking what I learned and leading our new product arm of the business.

"Beyond the skills, the people and the new community I know have to share and learn from is incredible. Inspirational and empowering. Alicia and James have been brilliant instructors and I wish I could take the course again!"

Learn from 20+ years of GTM experience
Alicia Carney
10+ years scaling fast-paced startups resulting in one merger, one acquisition, and one IPO. Writer, Finding Customer Focus
🏆 Shortlisted, Product Marketer of the Year 2021
🏗️ Built two early stage B2B marketing teams from scratch
🌟 Top 5% performer for 3 years at Deliveroo
James Doman-Pipe
10+ year product marketer specializing in the needs of early-stage tech startups.
Writer, Building Momentum.

🏆 Positioning & Messaging Maestro of the Year, 2021
🏗️ Built three early stage B2B marketing teams from scratch
📈 Specialized expertise in high-growth startups
Register interest for the next cohort
Pro
£1,995
Included:
Five week live course

40+ hours of learning

10+ hours of live sessions

30+ hours of written and video content

10+ product marketing templates

Slack community of your peers for ongoing support

Homework assignments to put your new skills to the test

One year access to course and community
Expert
£2,495
Included:
Five week live course

40+ hours of learning

10+ hours of live sessions

30+ hours of written and video content

10+ product marketing templates

Slack community of your peers for ongoing support

Homework assignments to put your new skills to the test

1:1 career advice / CV review

Lifetime access to course and community
We want to curate the right mix of community for each cohort, so we ask you to complete a short registration form that you can answer by video or text. You'll get this link by email.
Taught by startup experts who've done the work and want to help you navigate through it, too
Small cohorts means you get personalized mentorship and access an intimate community
Unique focus on successfully influencing Tech / Product with

the 'Voice of the Customer'
We hope you join us!

Questions? Message us at wtf@joinmoonshot.io
Created with